INZAGHI.00SERVER.COM
Inzaghi Inzaghi Fillipo Inzaghi Inzaghi inzaghi Pippo inzaghi simone inzaghi
Complete Inzaghi Image Gallery!! Each link on the menu bar is a photo gallery

Ciao Maldini, Azzurri June 18, 2002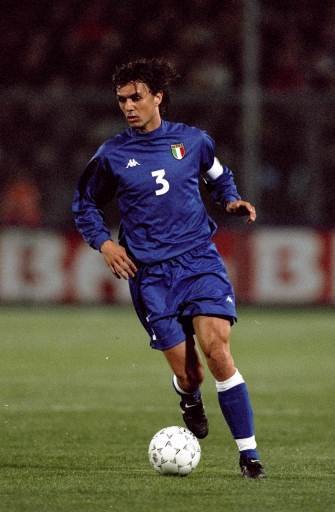 Gli Azzurri and Maldini ended an era of calcio on June 18, 2002
The world has caught on the Italian approach to the game and has suffocated the aspirations of Italian Football. For Maldini and the Azzurri it is time to come to grips with the way the game is played. It is time for Maldini and Gli Azzurri to move on and reinvent their game.
But nonetheless we are all proud of being supporters of the Italian National Team. They always made it interesting whether they won or lost.....you can never say that in 1990, 1994, 1998, 2000, and 2002 you weren't on the edge of your seat watching Gli Azzurri!
If you are like me you are sad that the Italians have lost the way they did in World Cup 2002. But you must understand that the game is evolving and so must the Italians. They are not the best team in the world and they are not good enough to be in the same class as Brazil or Germany. They have the talent but must change their approach. It is not a coincidence that they have lost in overtime 5 Straight tournament. When you score one goal and try to hold it off and let the other team come at you for 90 minute you are asking for a death wish.
Please Italia for the sake of Italy and football fans around the world............Move on.......Thank You Maldini for playing with such Grace..........But like the Azzurri....it is time to move on.
Ciao Azzurri.
Updated World Cup 2002
Here is a video archive of the the most requested player (Inzaghi). I will continue to add more archives and later on more photos.
Also I am considering setting up a merchandise section. I will sell T-shirts, High Quality Photo Posters of pictures on this site, car stickers, and more. If you think you would be interested in buying T-shirts with the picture of your choice on this site, please e-mail me. Thank you look for the next update within a week.
We are becoming one of the largest photo galleries of Italian football players!! with your feedback we will grow even stronger!!!
Grazie......Forza Azzurri......e Inzaghi!!
<----these are links to photo galleries!!
(except Juve, and serie A)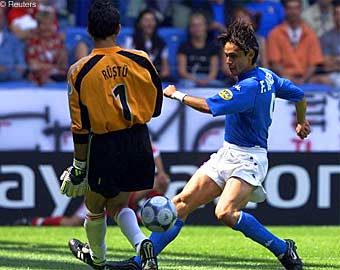 Here is Inzaghi Against Turkey in the opening match Euro 2000 !!